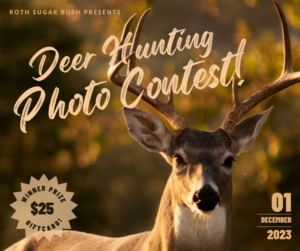 If you're anything like us here at the Roth Sugar Bush, Deer Hunting Season is like its own holiday!
We've decided to have a Deer Hunting Photo Contest to see how our customers are celebrating!
PHOTO CONTEST RULES & INFORMATION
The contest starts today, November 10th, and ends on December 1st, 2023!
The winner will be picked by the most votes from our staff here at the Roth Sugar Bush and announced on Friday, December 8th!
To enter simply send in a photo of your deer, you in your tree stand/hunting spot, or your favorite moments from hunting to:
Anyone can enter and no purchase is necessary to enter/will increase your chances of winning!
The gift card will be emailed to the winner after it has been announced and is valid for any purchase in-store (call to use for online orders)
* by entering  you give the Roth Sugar Bush permission to use your photo submission on our social media to announce the winner if selected *
Follow us on Facebook or Instagram @rothsugarbush to see who the winner is on December 8th!
Sugar Grove Maple Supplies:
S2030 County Road D, Westby, WI 54667
Saturday November 11th  8:30 a.m. to 12:30 p.m.
(2) presentations
Tapping Seminar
Bottling Seminar
by Jim Adamski
Webinar with University of Wisconsin
(Jim Adamski and Tony Johnson)
Preparing for the 2024 syrup season.
Thursday December 7th at 6:30 p.m. (CDT) via zoom.
More info to come…
Webinar with University of Wisconsin
(Jim Adamski and Tony Johnson)
Tapping seminar February 2024 (date to be determined) Via Zoom.
Wisconsin Farm Tech Days
Cadott, Wisconsin
Chippewa Valley Music Festival's Grounds
August 13, 14 & 15, 2024
More Information will be posted here!