REGULAR STORE HOURS:




8:00 to 4:00 MONDAY through FRIDAY
Our store will be closed
Thurs. Nov. 24 & Fri. Nov. 25
for Thanksgiving
You can still order on our Website
and we will ship the next week.
Click on the Store Front Picture here to take a "Virtual Tour" Inside our Store
On the next screen you can hold your left mouse button down and scroll around outside
Click on the door to go inside
Again…hold your left mouse button down to scroll around the store or click your left mouse button to zoom in…
Our Story – Maple Equipment & Maple Syrup Sales
Our company began in 1956 when we tapped our first tree. What began as a family operation on the farm has quickly grown. We are also one of the Midwest's top maple sugaring equipment dealers, specializing in small town personable service. We pride ourselves with the quality and taste of our 100% pure maple syrup. We are located in the very picturesque Chippewa Valley, Cadott, Wisconsin.
We thank you for visiting our site and we'd love to hear from you. If you can't find what you are looking for please give us a call or contact us via email. We also encourage you to leave your e-mail address so that you can receive maple equipment special sale updates and upcoming events on maple services that we offer.
Thank you for your business and we look forward to serving you. Peter & Dawn Roth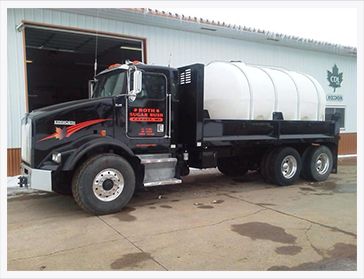 NEW – North American Maple Syrup Producers Manual 3rd Edition